See on Scoop.it – Moodle and Mahara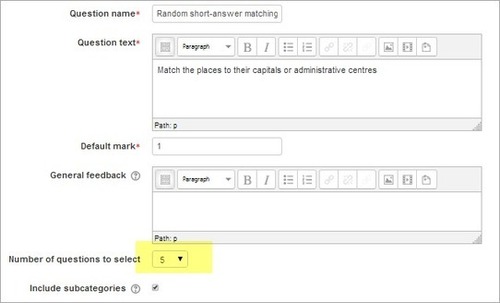 In older versions of Moodle there was a question type called "Random short-answer matching" It was like the matching question type except that the answers to be matched actually came from previously made short-answer questions. It stopped working three years ago and has only just been fixed (thanks to French Moodling quiz enthusiast Jean-Michel Védrine) This week the question type has been put back into Moodle, so if you have the lastest Moodle versions, 2.5.5 and 2.6.2, you will be able to use it.
Many people however only started using Moodle recently and won't even know of is prior existence. So this post is just to explain it and introduce it. Jean-Michel has added some detailed documentation on the Random short-answer matching question type.
If you have Moodle 2.5.5 or Moodle 2.6.2 then when you add a quiz question you will see this new type available:
There are two things to be aware of. (1) You can't just add this question and make it there and then, like any other question type, because you need first to have some short-answer questions pre-made and (2) those questions need to be connected in some way, share a theme.
gideonwilliams's insight:
Really this idea for consolidation. Having sub categories is of course key to the task
See on www.moodleblog.net