See on Scoop.it – Web2.0 Tools for Teachers and Students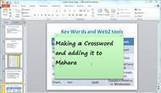 My friend Muriel wanted to take a risk and do something different for her observed lesson – we created a Moodle course for a 3 lesson project. Took us a couple of days but we are really pleased with the results.
Here is a brief look at what we did.
Next step is to add in the assessment features – I'm think designing a series of quiz questions that depending on the answer students give will give htem an indication on what level they will receive. Answers will also have feedback on what they can do to improve.
Students will upload work to their Mahara page for peer and teacher review
See on www.screenr.com